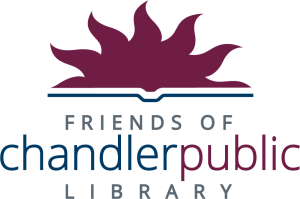 Friends of Chandler Public Library

Friends of Chandler Public Library is a non-profit, all-volunteer organization of dedicated library advocates who cooperatively support and sponsor many of the Library's programs, services, and events. City funds can only go so far. Through community support, the Friends make our great library even better.
Support for the Friends has enabled us to:
Partner with schools to support the Read to Succeed tutoring program to ensure first graders have the literacy skills needed for school success
Engage school-age children, teens, and the maker community with STEAM programming
Continue strong annual support of the Summer Reading Challenge, children's events, and adult cultural programming
Libraries may survive with public funds, but it's with private gifts that they flourish. If you'd like to make a tax-deductible donation to help support our library, please click the button below.
If you'd prefer to pay by check, please make it out to Friends of Chandler Public Library, then mail it to:
Friends of Chandler Public Library
PO Box 4008, MS601, Chandler, AZ 85244-4008
All donations are tax deductible and are greatly appreciated.
Have questions or want to learn more about the Friends?
Friends@chandlerlibrary.org
480-782-2815
Used book sales support the library
Books, DVDs/Blu-ray. CDs and Vinyl can be donated at any of the four Chandler Library location, anytime the Library is open.
Friends of Chandler Public Library Donation Guidelines
We accept:
Adult and children's hardback and paperback books
Audio CDs
DVDs
Blu-ray Discs
Current issues (within the past 12 months) of popular magazines
Video Games
We do not accept:
Water-damaged, mildewed, musty, strong-smelling or soiled books
Damaged books (torn/loose pages, broken spines, missing pages/covers etc.) needing repair
Scratched/unplayable CDs or DVDs
Readers Digest Condensed Books
National Geographic magazine
Computer software
Cassette tapes
Videotapes
Loose CDs, DVDs, etc. without their original cases
Home-recorded (aka burned) CDs, DVDs, etc.
Non-book or media items (e.g. toys, calendars, cards, puzzles, etc.)
Book donations are always welcome for the Friends' on-going sales and are tax deductible. Receipts for tax purposes are available. Proceeds from used book sales are used to fund library programs and services.
Please bring donations inside any library location during regular open hours. If you have several boxes of items, please ask the techno clerk in the lobby about use of a book cart.
Get your State Forty Eight Tee Shirts at the Library!
$25 Crew Neck Tee Shirt Men's and Women's, sizes S - 2XL
Also available for purchase at any of our four library locations.
The Friends Bookshop, located in the Downtown and Sunset Chandler Libraries, features hardback and paperback books for everyday low prices and special sales throughout the year.
Two for Tuesday – all books 50% off every Tuesday
Clearance Sale – all books 75% off on select dates at the Sunset and Downtown Libraries.
January 4 – 9, 2023
March 1 – 6, 2023
May 3 – 8, 2023
July 5 – 10, 2023
September 6 – 11, 2023
November 1 – 6, 2023
Pop-up Sales – When the Friends feature special collections, priced as marked. 
February 1 –14, 2023 – Movies, Music and More
March 15 – 28, 2023 – Children's Books
May 31 - June 13, 2023 – Children's Book Sale
August 2 – 15, 2023 – Movies, Music and More
October 11 – 24, 2023 – Vintage Books
November 29 – December 12, 2023 – Holiday and Children's Books