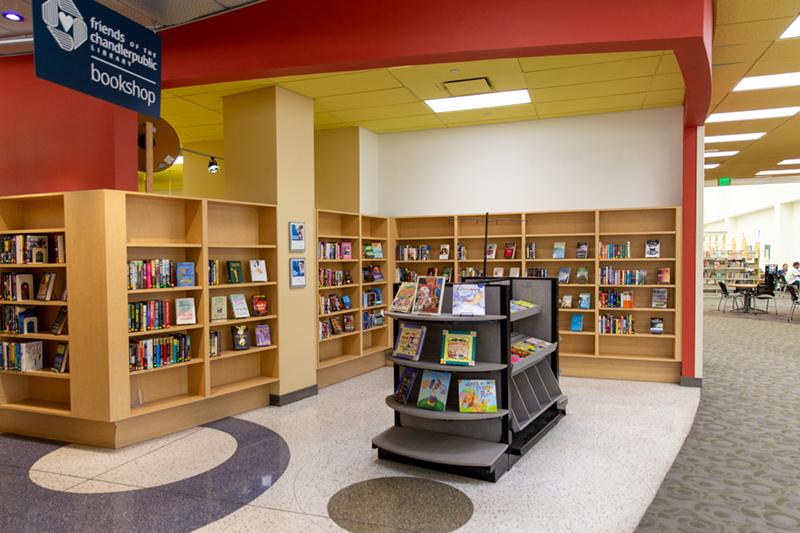 The Friends Bookshop, located in the Downtown and Sunset Chandler Libraries, features hardback and paperback books for everyday low prices and special sales throughout the year.
Two for Tuesday – all books 50% off every Tuesday
Clearance Sale – all books 75% off on select dates at the Sunset and Downtown Libraries.
January 4 – 9, 2023
March 1 – 6, 2023
May 3 – 8, 2023
July 5 – 10, 2023
September 6 – 11, 2023
November 1 – 6, 2023
Pop-up Sales – When the Friends feature special collections, priced as marked. 
February 1 –14, 2023 – Movies, Music and More
March 15 – 28, 2023 – Children's Books
May 31 - June 13, 2023 – Children's Book Sale
August 2 – 15, 2023 – Movies, Music and More
October 11 – 24, 2023 – Vintage Books
November 29 – December 12, 2023 – Holiday and Children's Books
Following in the historical footsteps of the initial library collection, Friends of Chandler Public Library relies on book and media donations from the community. These donations become part of a very important fundraising effort in the form of used book sales.
Books, DVDs/Blu-ray, CDs, and Vinyl can be donated at any of the four Chandler Library locations, anytime the Library is open.
Please view our donation guidelines.
We accept:
Adult and children's hardback and paperback books
Audio CDs
DVDs
Blu-ray Discs
Current issues (within the past 12 months) of popular magazines
Video Games
We do not accept:
Water-damaged, mildewed, musty, strong-smelling or soiled books
Damaged books (torn/loose pages, broken spines, missing pages/covers etc.) needing repair
Scratched/unplayable CDs or DVDs
Readers Digest Condensed Books
National Geographic magazine
Computer software
Cassette tapes
Videotapes
Loose CDs, DVDs, etc. without their original cases
Home-recorded (aka burned) CDs, DVDs, etc.
Non-book or media items (e.g. toys, calendars, cards, puzzles, etc.)
Book donations are tax deductible. Receipts for tax purposes are available.
Please bring donations inside any library location during regular open hours. If you have several boxes of items, please ask the techno clerk in the lobby about the use of a book cart.
Not able to make it to the library for one of our booksales? Support Chandler Public Library by purchasing used books on Amazon. You can also help support the library by shopping at our Ebay shop. Click the buttons below to begin shopping.